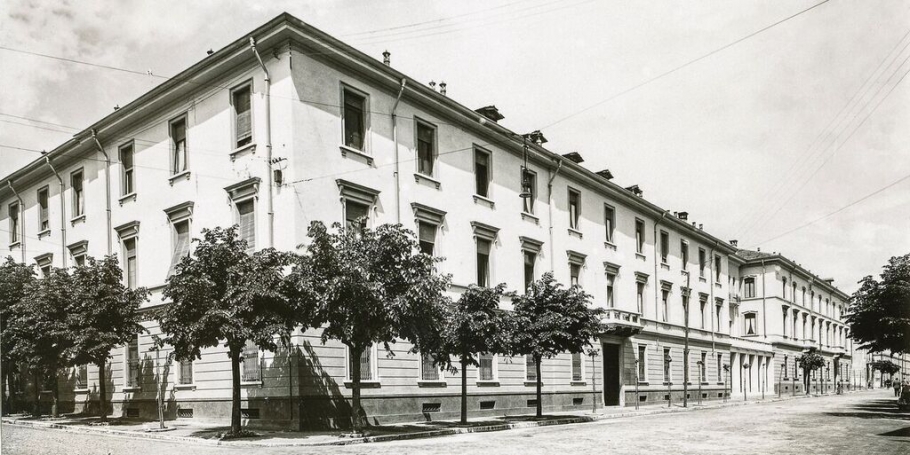 MEDICAL CARE SINCE MORE THAN A CENTURY
As recognized by the International Joint Commission's (JCI), Poliambulanza has reached a standard of excellence with regards to different fields, such as the clinical, managerial, technological and formative ones. For more than a century it has been pursuing its primary aim, providing the best possible treatments, in a more and more modern, smart and closer to patient context.As Poliambulanza's origins date back to 1903, when a group of twelve doctors from Brescia, nowadays evaluated for their pioneering contribution to the social medicine, decided to open a clinic in the heart of Carmine district. They wanted their clinic to be in favour of the needy and the initiative was so warmly welcomed that in few years they needed to look for a new location. The clinic was moved to via Calatafimi and Ancelle della Carità were assigned to manage the structure. Along with the new peculiarities of the modern medicine and to meet the local requirements of the city, Poliambulanza became more and more equipped and definitively came to its present seat, via Bissolati, in 1997.
A CONSTANT DEVELOPMENT
In that context of growth and improvement, the "Parco Didattico Eugenia Menni" was inaugurated in 2001 and welcomed as a centre of international vocational training and scientific research. As a result of that joint work, Fondazione Poliambulanza acquired even more visibility nationally and internationally. It's self-evident that only a certain level of medical and scientific progress can lead to the same progress as to all the services guaranteed by an hospital.
The management of the hospital is of the main causes of Poliambulanza's remarkable transformation. The Ancelle della Carità have been responsible for it, starting from a clinic close to the sick and the needy to a multifunctional multispecialist centre, which has achieved the required standards of quality and excellence in the clinical, organizational and technological daily operations.
THE FONDAZIONE
Considering such a complex reality, the Ancelle della Carità decided to create a new remarkable institution and in 2005 Fondazione Poliambulanza was born. The other driving forces are the Diocese of Brescia, The Università Cattolica del Sacro Cuore and the "Opera don Calabria". In its remodelled image, Fondazione Poliambulanza has expanded its seat, staff and services. Even in a context of constant growth, modernizations and renewals, it keeps on preserving the merge of Christian solidarity and clinical skill, which has always been its lifeblood.